---




Without Interference — Installation

2013
Installation shots by Lyndsey Putt.

Degree Show Installation
Video, Transmitter, Antenna, Microphone, Radios (4) and Print Media
Locations: Top of design building, stairwells and 2nd floor.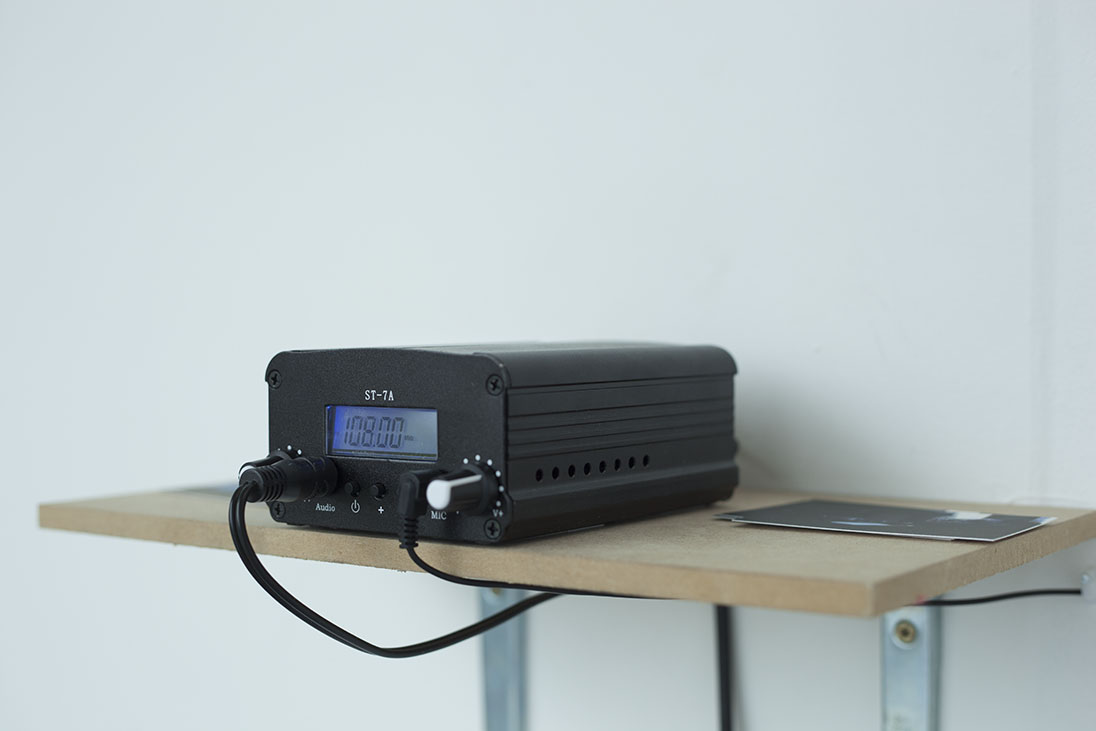 WITHOUT INTERFERENCE

(Full text of zine)


Retribalization


'Yet here we are - almost besieged in this Island - cut off from other nations. Yet we make no effort to do anything to put our views before the world.' [1]


Ownership and Space


Q: In regards to autonomy, if you are a playwright and you are inviting people into your house to operate in this medium, is this becoming a play that you own? Is there a difference between the theatre and radio? Being the director as opposed to being a participant?

Margaretta: No, I don't think anyone owns the station. Well, when you write a play, you commit to the theatre and its contracts. It is different to doing something in your house because there's nothing written. And on the ownership of the broadcasts, well any woman who actually wants those broadcasts can have them. If there is any ownership, because I receive money from the State everything that I do is part of the State. [Margaretta is a recipient of Aosdána - the Arts Council Membership fund] I don't have it as personal ownership. I think the whole relationship with state funding is interesting because the money that we get is from the Irish people. So therefore the Irish people should have collective ownership over it. [2]


Crystals in Wicklow


'For all his military accomplishments, Colonel Dennis will be best recalled for his magnificent endeavours in the pursuit of physics. Fortgranite lies in an area of the Wicklow Mountains with an unusually high density of stone circles, dolmens and other ancient megalithic monuments. At Boleycarrigeen near Fortgranite is a stone circle known as the Griddle Stones while the Castleruddery Stone Circle by Donard is a particularly fine specimen, featuring a pair of sizeable white quartz portal stones. In fact, there were probably a good deal more stone circles across Ireland than exist presently but many were broken up by practical farmers seeking to clear land or by Christians eager to extinguish any festering beliefs in pagan Gods. Nonetheless, there is a continuing sense of magic about stone circles that compels one to sympathise with those who cannot sleep unless they have small quartzite pebbles inserted in every corner of their bedroom. Colonel Dennis would almost certainly have been of this mindset. He was fascinated by the different propensities of rock.

'One evening, in the earliest days of radio, he attended a lecture in the Royal Dublin Society given by Marconi. He returned to Fortgranite more determined than ever and began experimenting on granite crystals. Piers Dennis, the Colonel's grandson, consequently recalls the Fortgranite of his childhood as "a land of perpendicular wires and haphazard aerials springing across the lawn, rebounding off oak trees and clambering through the windows of my grandfather's study. "Tap-tap-tap" was the prevalent sound". But there was method in the Colonel apparent madness. The experimental station he set up was the first recorded amateur radio station in the world. He mastered the concept of crystal control on radio frequency to such an extent that he effectively created the first radio transmitter in Ireland on the front lawn at Fortgranite. A particular triumph was when he managed to establish contact with somebody in Australia. He also developed an early form of echo-sounder for submarine detection. This was a device for measuring water depth by sending pressure waves down from the surface and recording the time lapse before the echo's return from the bottom.
Unfortunately for his descendents, he failed to patent this latter invention.' [3]



Living Tapes


Q: Would you say that taped broadcasts were less important than live ones?

Margaretta: I think both were very important. It meant people who didn't come in were able to give information. I had a Native American woman on once through tape. The tapes were wonderful, they put you in touch with everything that was happening. I think that's very important. But also it was very important that I was in here and that I kept it live. So me being able to listen to the tapes meant I became educated.

Q: The taped broadcasts were however interrupted for live though?

Magaretta: Yes, always in the morning broadcast, but not at night. The whole thing was working on three or four different levels. Once licensing came in and the penalties, we were able to ask for help from all over the world. So we acquired lots of tapes and sent them out, and it plugged us in. I think it's important to remember it's not for the mainstream. It's vital to play their tapes too. You are becoming local and global. We were giving information that no one had. We were a part of campaigns.[2]



A Maneuver


'A maneuver occurs without permission within society, geographical space and lived experience, and is almost entirely intangible. This disembodied practice - broadcasting within public space without obtaining permission - makes it a perfect partner to pirate radio. As a result, the maneuver often appears to be a social experiment in which participants interact within the context of an art initiative with no tangible artwork, no passive spectator and no individual artist. In effect, the public becomes co-creator of the artwork.' [4]



Assembly Instructions


Begin by drilling the appropriate mounting holes. Dimensions are given in Fig. 2 at right.

The cast aluminium box is just 1" thick (deep). All holes are drilled midway on each side, in other words .5" up from the bottom of the box.

Install the variable capacitors and coax connectors. The coils (inductors) are install almost last. Position the capacitors so the "open" part of the plate is toward the bottom of the box. This puts the bottom of the cap with its support brackets at the top so you can solder your coil to it.

Next wind your coils and bend your aluminium strip to make your shield. [5]







References

[1] O'Raghaille, Deasun (1944) A Listener's Opinion - Improvements Needed in Radio Eireann, The Kerryman Ltd, Russell Street, Tralee, p.22

[2] D'arcy, Margaretta (2013) cited in Michelle Doyle, Switch Off All Apparatus: Technology, Autonomy and Progress in Irish Radio Art. NCAD

[3] Bunbury, Turtle (Year Unknown) Denis of Fort Granite, Co. Wicklow [ONLINE] Available at:http://www.turtlebunbury.com/history/history_family/hist_family_dennis.html

[4] Létourneau, André Éric (2010) Islands of Resistance - Pirate Radio in Canada, New Star Books, Vancouver, p.145

[5] Anonymous (1987) Radio Is My Bomb, Self Published, United Kingdom